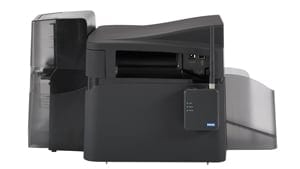 Fargo DTC4250e Plastic ID Card Printer
Mid-High Volume Card Printer
Edge-to-Edge Printing 
Compact Footprint
Flexible Add On options including: Dual Sided printing, Same side Input/Output hopper, Magnetic Encoding, Smart Card Encoding, Ethernet & WiFi
3 Year Warranty
AES-256 Data Encryption
Specifications
Options
Description
Video
Resource Links
Specifications
Side printing: Single or dual
Print method: Dye sublimation / resin thermal transfer
Resolution: 300 dpi
Print speed: 16 seconds per card / 225 cards per hour (YMCKO)
Included Software: Embedded Swift ID® badging application and FARGO® Workbench™ printer maintenance and diagnostic software with Color Assist™ spot-color matching
Data protection: AES-256 encryption on the printer over a secure network
Card capacity: 100 card input, 100 card output, 100 card reject with same-side input/output hopper

Accepted Card Sizes:
Options
Single-wire Ethernet and USB 2.0 interface for inline printing and encoding(only available for iCLASS® and contact smart card encoding)
Wireless connectivity with Wi-Fi® accessory (on Ethernet-enabled printers)
Password protection on the printer
Data protection via AES-256 decryption
Eco-friendly erase and rewrite feature (no ribbon required)
SmartScreen™ graphical display
Optional dual-side printing
Optional fluorescent printing for additional UV security
Optional same-side input/output card hopper – field upgradeable
Smart card encoding (contact/contactless) – field upgradable
Magnetic stripe encoding – field upgradeable
Printer cleaning kit
Description
The HID Fargo DTC4250e ID Card Printer is the perfect choice many card printing applications. From standard photo ID cards to more sophisticated access cards with embedded electronics, the professional-grade DTC4250e card printer is a perfect choice. This printer is able to produce large quantities of extremely durable credentials both quickly and easily. Ideal for small to mid-size businesses, schools, registered clubs and government agencies that require reliable printing. Featuring a flexible and modular design, the DTC4250e can be easily adapted whenever your organization grows or your printing needs change.
The DTC4250e features new security enhancements and options, including the embedded iCLASS SE smart card encoder for encoding organizational or personnel data, and AES-256 data decryption for protection information. The Fargo DTC4250e can also be password protected so only approved operators can print and encode security cards and visitor badges.
Utilising a small footprint, with optional same-side input/output hopper and Wi-Fi accessory, the DTC4250e consumes minimal space and offers maximum flexibility.
With a global three-year warranty, each of the seventh-generation HID FARGO card printers can be integrated seamlessly with other HID products. Thus, ensuring you receive and retain maximum value from the most trusted name in secure identity solutions.
Video
Resource Links