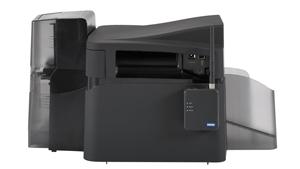 Fargo DTC4250e Plastic ID Card Printer
Mid level Fargo card printer. Designed for mid-high volume ID card printing requirements.
Mid-High Volume Card Printer
Edge-to-Edge Printing 
Compact Footprint
Flexible Add On options including: Dual Sided printing, Same side Input/Output hopper, Magnetic Encoding, Smart Card Encoding, Ethernet & WiFi
3 Year Warranty
AES-256 Data Encryption
The HID Fargo DTC4250e ID Card Printer is the perfect choice many card printing applications. From standard photo ID cards to more sophisticated access cards with embedded electronics, the professional-grade DTC4250e card printer is a perfect choice. This printer is able to produce large quantities of extremely durable credentials both quickly and easily. Ideal for small to mid-size businesses, schools, registered clubs and government agencies that require reliable printing. Featuring a flexible and modular design, the DTC4250e can be easily adapted whenever your organization grows or your printing needs change.
The DTC4250e features new security enhancements and options, including the embedded iCLASS SE smart card encoder for encoding organ