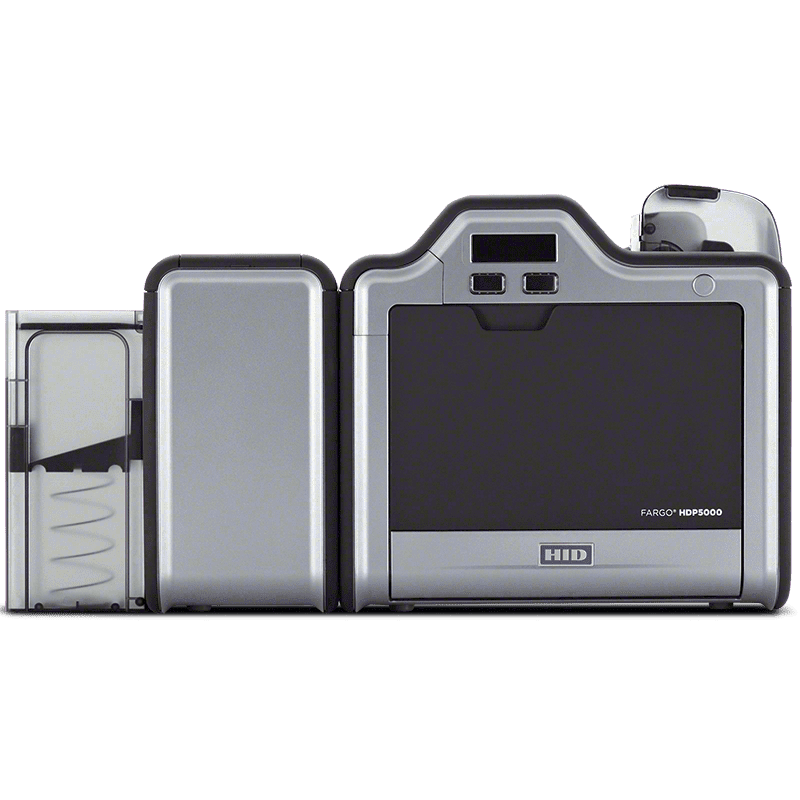 Fargo HDP5000 Plastic ID Card Printer
Exceptionally High Quality Print
Complete Edgeless Printing 
Optimised for printing onto Smart / Access Control Cards
Add On options including: Dual Sided printing, Magnetic Encoding, Smart Card Encoding, Lamination modules
3 Year Warranty
Specifications
Options
Description
Video
Resource Links
Specifications
Side printing: Single or dual
Print method: HDP Dye-Sublimation / Resin Thermal Transfer
Resolution: 300 dpi
Print speed: up to 24 seconds per card / 150 cards per hour (YMC with transfer)
Warranty: 3 years (printer); Lifetime (printhead)
Accepted Card Sizes:
Options
Single-wire Ethernet and USB 2.0 interface for inline printing and encoding(only available for iCLASS® and contact smart card encoding)
Wireless connectivity with Wi-Fi® accessory (on Ethernet-enabled printers)
Password protection on the printer
SmartScreen™ graphical display
Optional dual-side printing
Optional dual-side holographic image lamination
Optional fluorescent printing for additional visual Ultraviolet (UV) security
Locking card hoppers (dual input or same-side input/output) – field upgradable
Single-sided or dual – sided (simultaneous) card lamination – field upgradable
Smart card encoding (contact/contactless) – field upgradable
Magnetic stripe encoding – field upgradeable
Ethernet with internal print server
Description
Using the Fargo HDP5000 you can expect superior print quality, higher reliability, durability, and, greater security The HDP5000 ID card printer and encoder is both an affordable and very versatile option for ReTransfer card printing. High Definition Printing (HDP) gives you a superior print quality, even on smart or technology cards with embedded electronics and components.
High Definition ReTransfer card printing is availiable to almost any business with the cost effectiveness and reliability of the HDP5000 card printer. Backed with a lifetime printhead warranty and three-year warranty on everything else, customer have peace of mind when purchasing.
A very versatile modular design allows change as your business needs change. Dual card input hopper, double sided printing, single- or dual-sided lamination and smart card encoding options are all field-upgradeable features.
Printing consumables come in cartridges that load quickly and easily, meaning very little training is required. The enhanced HDP5000 card printer is truly feature-packed. Perfect for smart cards with embedded technology and components, reliably produce ID cards in High Definition showcasing the highest image quality.
The optional dual card input hopper really simplifies card handling and reduces downtime. Next-generation HDP platform enables faster print speeds and greater reliability. A SmartScreen LCD Control Panel displays helpful status messages and prompts.
Video
Resource Links